You can modify the design of your home page to fit better to your organization
⚠️You need to workspace admin or owner to modify the settings
From the homepage settings, you have the option to change the look of the homepage and customize it to suit your organization. You can change 1. the description 2. logo, and 3. banner image on the home page.

You can change all of these by going first to the home page.
Click -icon in the upper right corner to open the workspace settings.
In the settings you can 1. Edit the workspace description, 2. Edit the Workspace logo and 3. Edit the workspace banner.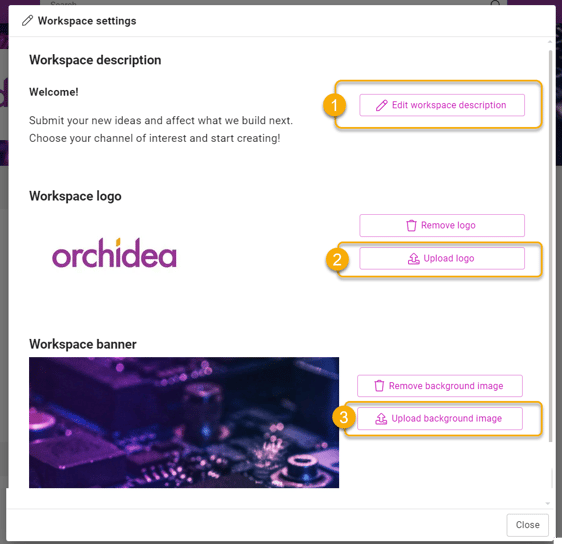 1. Editing the workspace description
To change the description or to set a new one, click the part 1. Edit workspace description
Write the description. You can make the description box bigger by clicking ctrl + enter in the editing mode.
Click Submit.


💡 You can edit the text style:
Paint the section you want, and the text editing feature appears.
Double-click a word (single-word edit) or click the text three times (full-text edit) to display the text editing feature.
2. Changing the workspace logo
Click section 2. Upload photo
Choose the photo and Upload.
Click Remove logo, if you want to remove it.
3. Changing the workspace banner
Click the section 3. Upload background image.
Choose the image and upload.
Click Remove background image to remove the banner photo.


💡The size of the homepage banner is 1440 x 180 pixels