Welcome to using Orchidea! Here you get the basic instructions on how to get started on your innovation process
In this start guide, we'll walk you trough the basics and general functions of using Orchidea. We'll tell you about the different features, for which you will find more detailed instructions separately.

Orchidea is a software for co-development, prioritization and decision-making of proposals, ideas and innovations. Our goal is to make collaboration and development with colleagues and other stakeholders easy and effective.
In this quickstart guide, we'll cover the basics of:
Homepage
The Orchidea homepage summarizes the recent activity of all the public channels and challenges visible to you. You can quickly check out the latest updates and develop proposals and ideas with your comments. If you want, you can also give likes to proposals you think are good and worthwhile.
Updates on private channels won't be visible on your feed.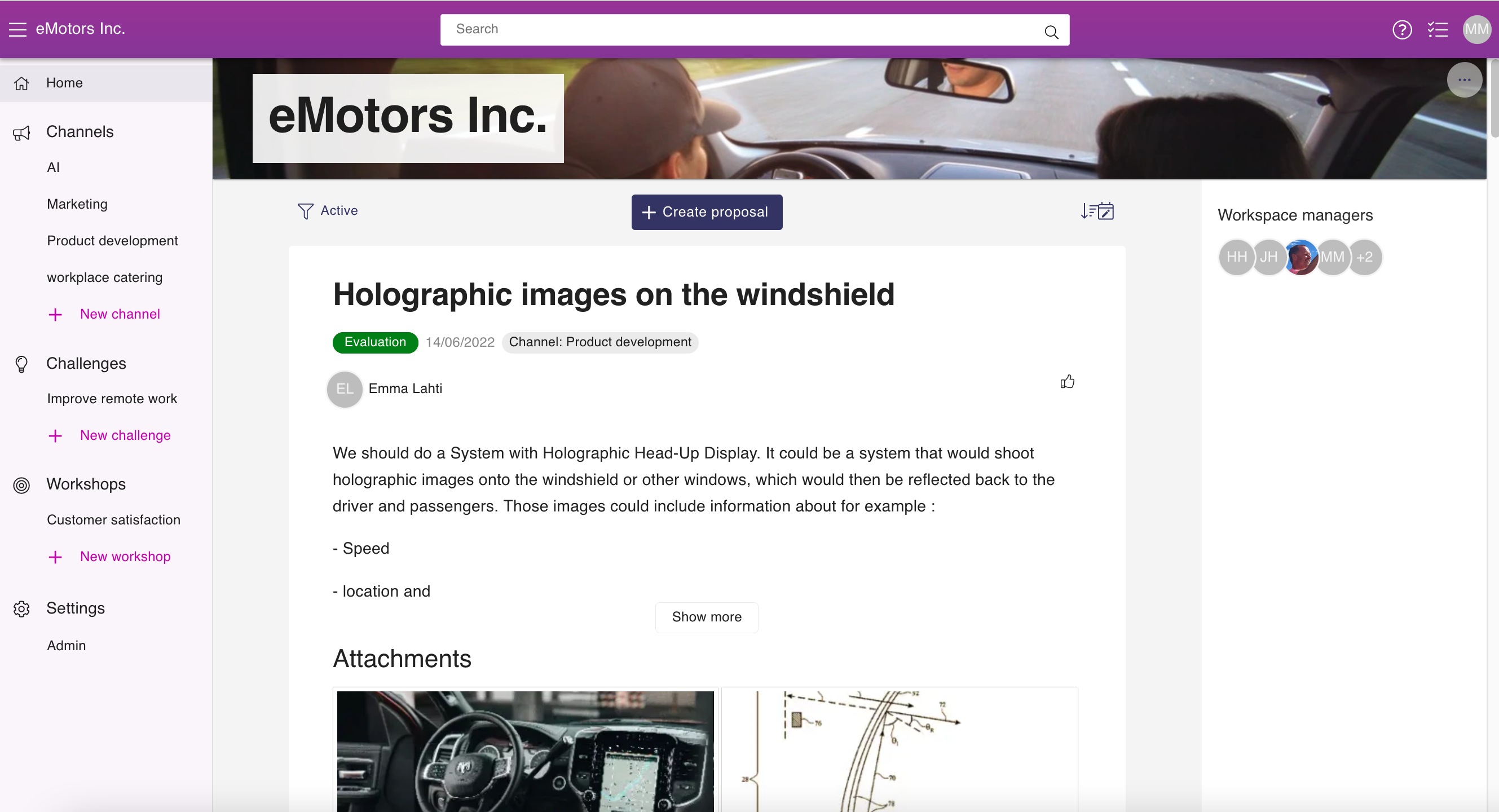 Channels
Channels help you in processing proposals. You can create your own channels for different purposes, topics and departments. From channels, proposals are easy to find and develop further.
Channels can be qualified as public, allowing anyone to add their own proposals and read and develop other people's initiatives. Channels can also be qualified as private, allowing only people who have been added to the channel join the proposal creation and see others' proposals.
You can create a unique proposal recording form for each channel so that the form suits for the need of that particular channel. That's why you can also define a unique proposal evaluation process and workflow for each channel.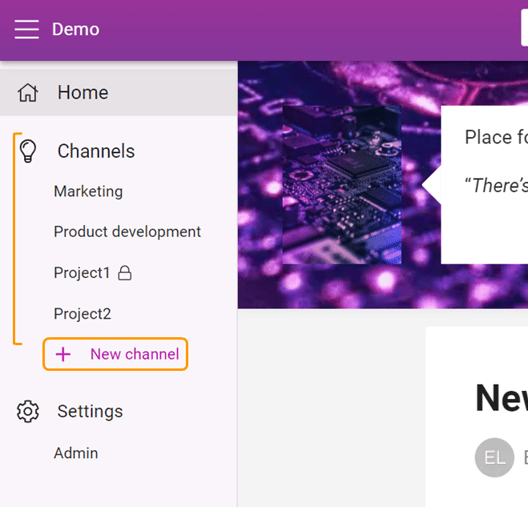 You can find the channels in the left menu
Create a new channel by clicking + New Channel.
⚠️By default, everyone can create channels. However, Admin can limit this feature. If this feature is limited, basic user can't create channels or see the New Channel -option.
💡 Personalize the channels by adding a banner and a description.
Read also: Creating a channel
Creating proposals
You can post your proposals to the channels visible to you. When writing down proposals, try to tell about your idea as accurately and comprehensively as possible so that it is easy for the reader to understand and so that its purpose is clear. This also helps in further developing the proposal as well as advancing the idea towards implementation. To create a proposal:
Click on the Create proposal on the top of the channel.
Fill in the form information. You can create own forms for different channels to make them as suitable as possible for creating proposals. The forms are also editable afterwards.
Please note that you have filled in at least all the required fields on the form. However, we recommend that you give as precise information about your idea as possible.
Finally, click Publish.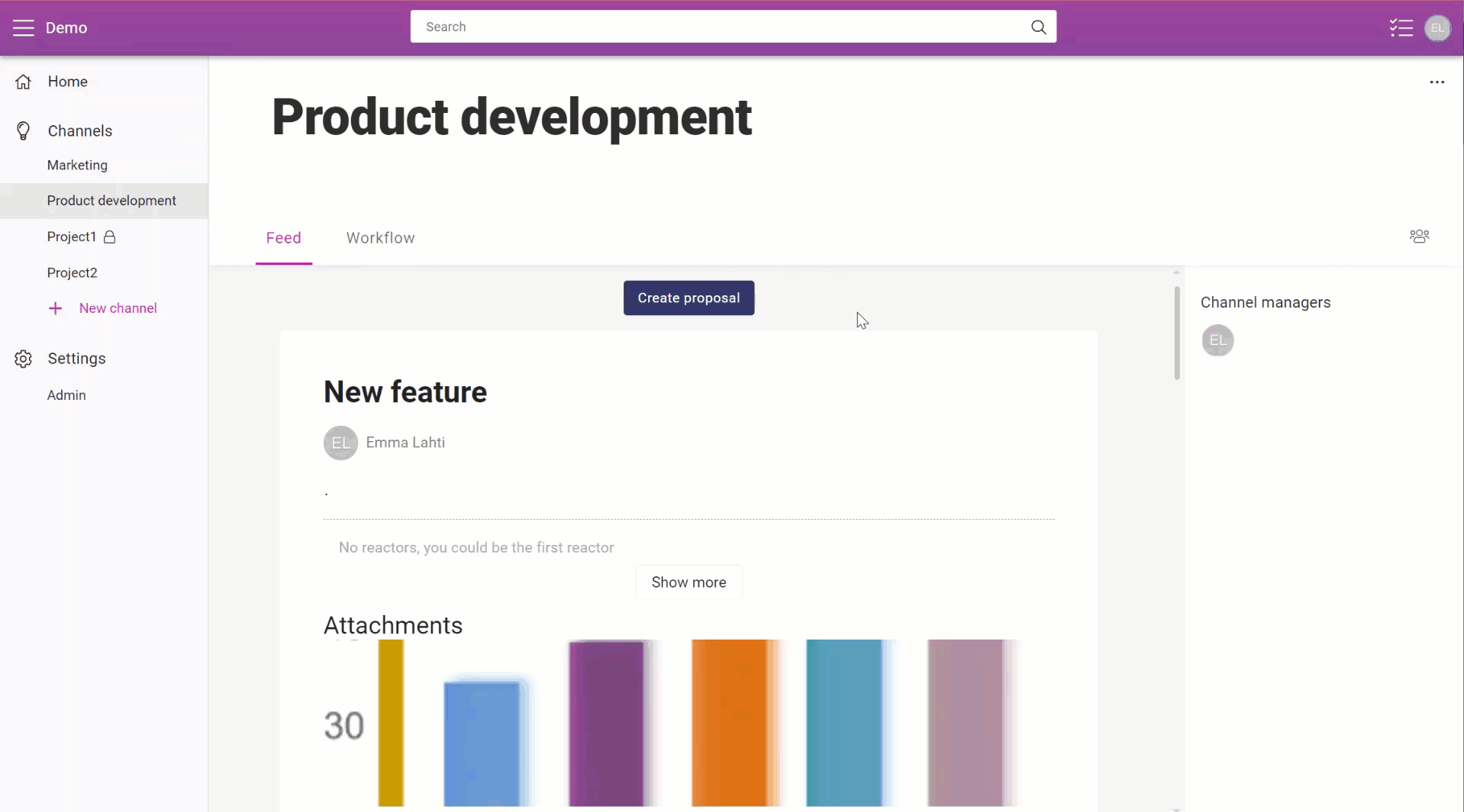 Read also: Creating and editing a form
Commenting and reacting to proposals
We recommend being active in commenting on proposals. By commenting on proposals , they can be further developed into better ones. In this way, proposals can be turned into the most effective and feasible innovations possible.

When commenting, try to add more value to the proposal and share your views as clearly as possible so that others can further develop the proposal based on your comments as well.
Click on the comment field below the idea.
Write your comment.
Add attachments to illustrate, if you want.
Click Submit (Or Ctrl + Enter).
You can find the reaction features by moving the cursor to the

-icon next to the idea.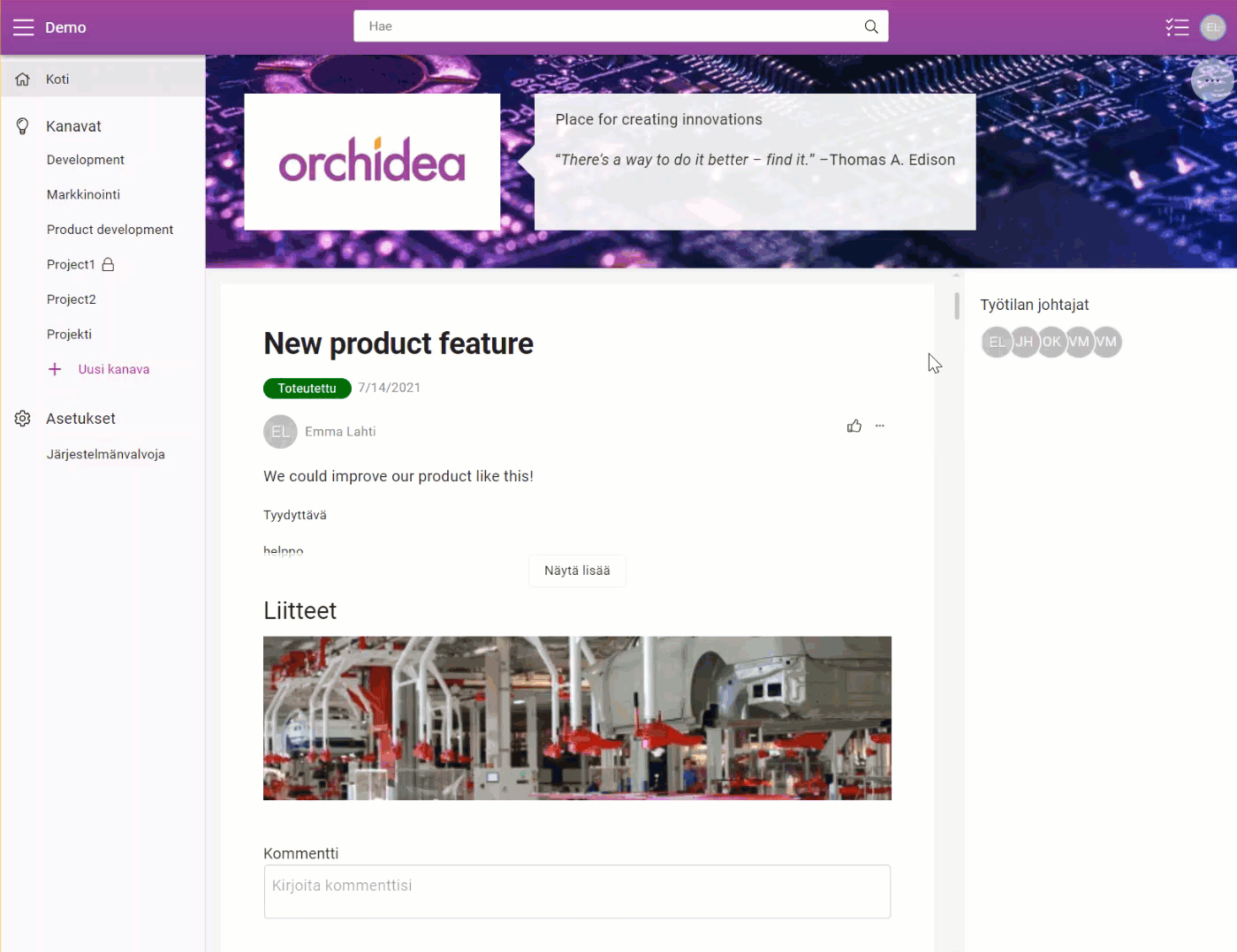 - Give a like to the idea.
- Support particularly good ideas.


- The proposal should be implemented as soon as possible.
You can also use these for comments where there are good changes, additions, or suggestions for improvement.
💡 You can check which proposals have gained a lot of popularity and use that information in evaluation and decision making.
Tracking the process in the workflow
The status of proposals can be managed and tracked in the Workflow.
You can create the workflow yourself or create it in a few seconds using one of Orchidea's best-practice templates.
You can add new steps to the proposal review and management process yourself, as well as define automatic functions to move forwards in the workflow.

Once a process has been created for a channel, you can keep track of the proposals and their statuses in the workflow. The workflow helps to illustrate the progress and processing of proposals, which boosts turning proposals into practice. As a user, you can also monitor the status of your own proposals and submit tasks to others regarding your proposal.

In the workflow, proposals can be moved manually from one status to another as the proposal moves forward in the process. You can also set automatic functions, such as if you fill out a specific form, the proposal will be moved to a different status.

You can also make it mandatory in the proposal process to fill in a specific form, for example, before the proposal can be moved to the next step.

You can add active as well as closed statuses to the process. Active status means that the idea is still being processed. Closed means that processing has ended. Archived and closed statuses can be closed statuses for example. This information is utilized e.g. reporting.
Only Workspace managers and owners can change the status of the proposals.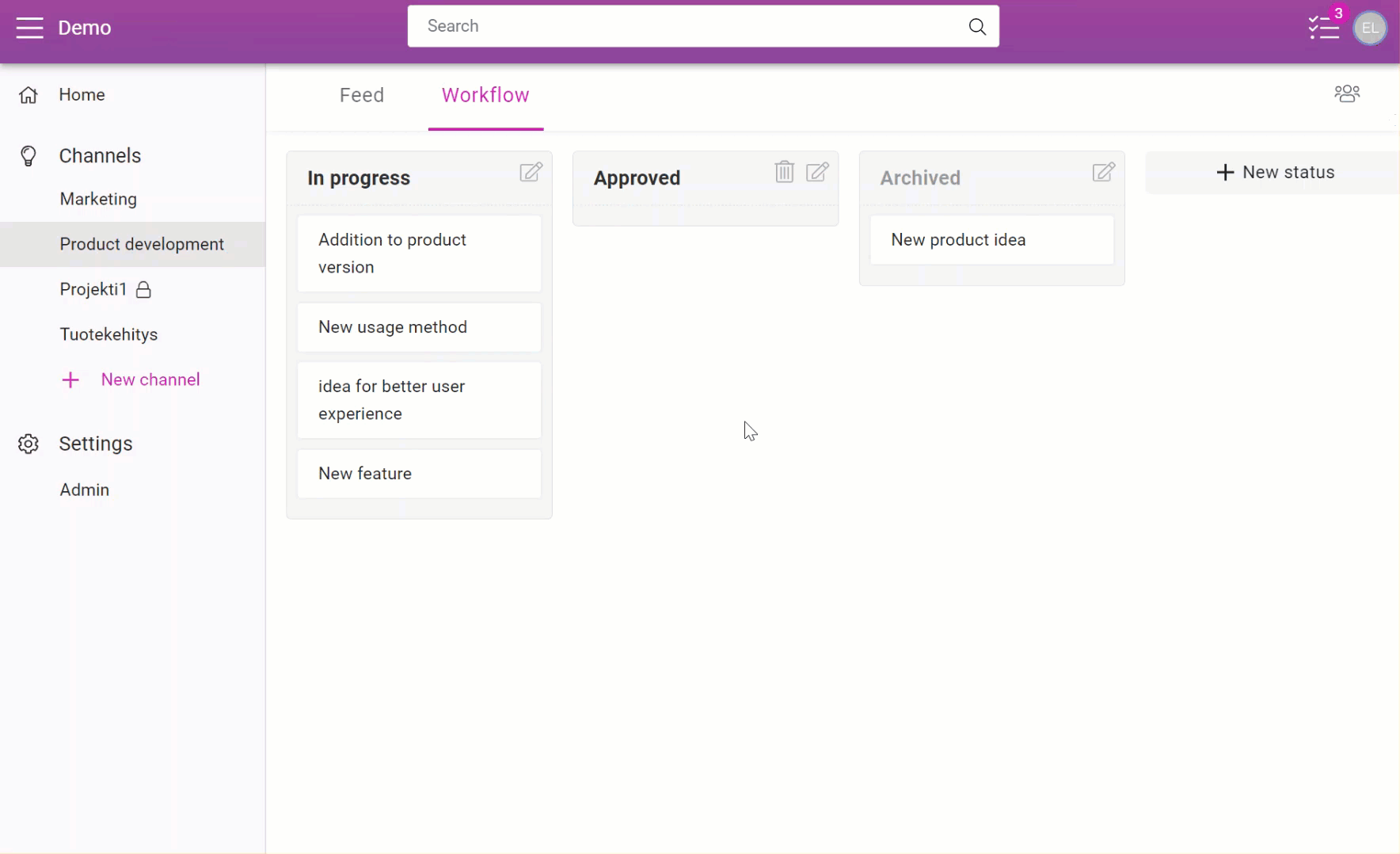 Read also: Creating a workflow
Evaluation and processing of ideas
You can create forms and form groups to comment on and evaluate proposals. You can also send a task to another user who should evaluate the proposal in order to the proposal to go further in workflow. You can define the decision-making process and its steps yourself.

On your decision making process, you can create forms for example for archiving and approval of the proposal. You can add an automatic function to the from to move the proposal forward in the process once filled.
You can also request an evaluation of a proposal by submitting a task, which can be commenting on the idea or filling out a form or group of forms.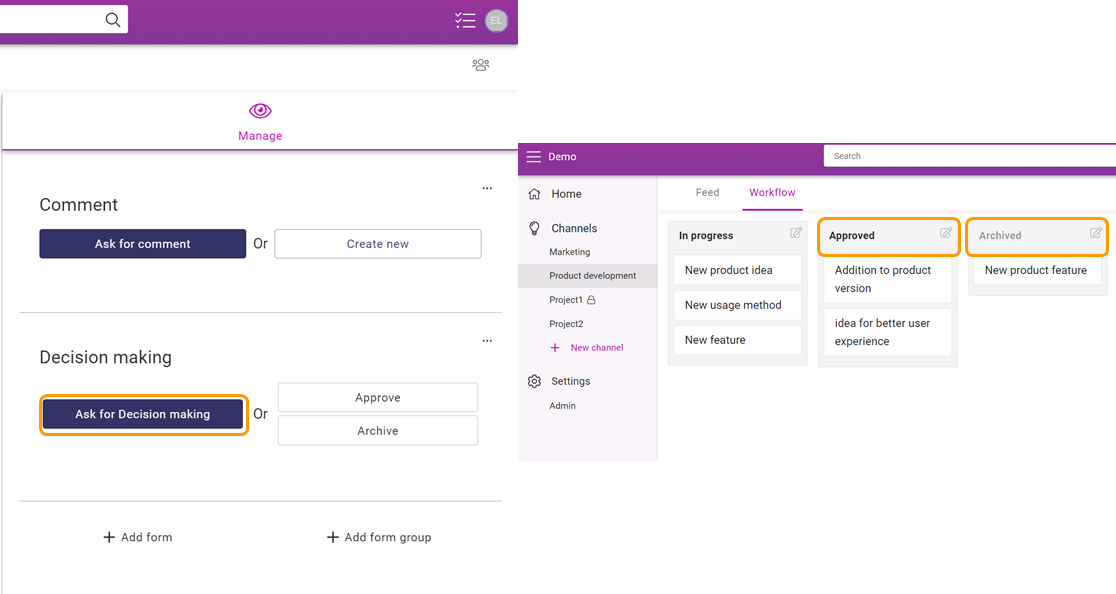 Read also: Decision making process